Andy & Gunilla Glover
Andy and Gunilla Glover have ministered in more than fifty-five nations, pioneering churches, leading Bible schools, speaking at schools and conferences, and working on multimedia projects. Now, as leaders in Fatherheart Ministries, they're taking the revelation of Father's love to countries where Fatherheart Ministries' presence is just beginning to be felt.
Andy, from England, and Gunilla, from Sweden, began their ministry years in 1985 as part of Youth With A Mission in Scotland, where they met. They travelled throughout Europe and Africa, leading ministry teams and speaking.
In 1998 they moved to Southern California and began Revival to the Nations, which continues to exist today. The ministry focuses on evangelism, equipping fellow believers and mercy ministry, operating primarily in America, Sweden, Ghana and Liberia. In 2002 the Glovers moved to Ghana to serve as missionaries there.
Three years later, Andy and Gunilla found themselves in a place of exhaustion. Many of their relationships were suffering, including their marriage. But that year, 2005, the Father's love began to penetrate their hearts. It came to them in part through the influence of Jack Frost, a powerful speaker and the author of 'Experiencing Father's Embrace', but primarily through personal encounters with Father-God. The Glovers have pursued a deepening of His love in their hearts and greater transformation of their lives ever since.
They returned to California in 2006, continuing their international ministry, and then moved to Malmö, Sweden, in 2012.
In 2014 they met Norwegians Olav and Unni Slatten, who invited them to be a part of Fatherheart Ministries schools they were leading in Norway. The Glovers have participated in many Fatherheart Ministries schools and events since then. Together they have written the book 'Finding Our Father: The Importance of Childlikeness'.
Today, with Father's love as their primary theme, the Glovers are based both in Malmö and in Charleston, South Carolina, USA. They have three adult children ~ David, Josef and Hanna ~ and a grandson.
Andy, who has a diploma in mechanical engineering, and Gunilla, who has studied nursing, enjoy time at the beach.  Andy also plays tennis and Gunilla creates memory albums for their children.
John Donkor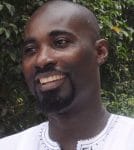 John Donkor is the Director for Revival to the Nations – Ghana and West Africa. John leads the ministry's projects in Ghana. He joined Revival to the Nations in October 2005. Before joining the ministry, he had been involved in Internet technology in Accra the capital of Ghana. He is currently studying for a Theological degree with Vision International University.
Revival to the Nations is a registered 501c(3) in the United states of America with head offices in Las Vegas, Nevada. We are also registered in Sweden and Great Britain as Charities.